If you're looking to take your home workout to the next level, purchasing a home gym is a wise choice. If you're looking for the best home gyms of 2020, then you'll have to know what to look for. And that's where this guide comes in.
The last thing you'll want to do is waste your time or money purchasing a sub-par product.
Luckily, I put together this comprehensive buyer's guide to make sure that doesn't happen. This guide will teach you the differences between home gym styles as well as which specs are most important when it comes down to decision-making time.
I'll also present my top picks for each category based on these specs. Let's start from the beginning to make sure we're all on the same page here.
How To Choose A Home Gym
First things first though. It's important to know what you're really looking for in a home gym before you start throwing your money around. All home gyms are not equal.
There are actually several different styles of home gym and the term itself can be a little confusing.
What Is A Home Gym?
It sounds like a silly question, but let's answer it anyway. A home gym (or home gym machine as it's also known) is a piece of equipment that is going to allow you to exercise at home. See, pretty vague right?
Different equipment will allow you to do different types of exercise, but the general idea is that owning a 'home gym' will make going to a commercial unnecessary.
A home gym could also mean a collection of equipment when put together, allows you to exercise at home instead of going to a commercial gym.
This is what I was referring to when I gave my website its name. My 'home gym' refers to the process of turning a space in your house into a working gym for you and your family.
Everyone has different needs based on what type of exercise they like to do and what their goals are. One person may be able to workout with a yoga mat and some resistance bands while another requires a Smith machine and loads of plates.
It really depends on what YOUR needs are.
For this article, I am referring to more of a specific piece of equipment, a home gym machine. If you searched for a home gym on Amazon, you would see all kinds of different pieces of equipment. Some you may recognize, some you may not.
But basically, a home gym machine is a piece of equipment that is going to allow you to do many different exercises to strengthen the different parts of your body.
When thinking about my approach to this article, I wanted to be as inclusive as possible. I wanted to discuss several different types of equipment that all fall under the home gym machine category.
I think the resistance type is a good place to start. If you know what type of resistance you are looking for, your search will be a lot easier.
Different Types of Home Gyms
I think the easiest way to categorize home gyms is based on the type of resistance they use to get the job done. When we separate home gyms in this manner, all machines basically fall into one of the following categories:
Body Weight Machines
These gyms use only your body weight to provide resistance. These machines are great because they typically don't take up much space and they are usually pretty affordable.
If you are looking for serious weight lifting and strength building, these may not provide enough resistance for ya. They are better for folks looking to stay flexible and tone.
These machines make great home gyms though because they are super versatile. If you're looking to maximize your exercise variety, you may want to consider one of these.
Examples include all the Total Gym machines.
Free Weight Machines
These machines use plates and are often found in local gyms. Often they include a barbell and some type of squat rack or power rack as well.
These are great if you are into powerlifting or just love the feel of good ol' fashioned weight lifting. These bad boys take up a lot of real estate in your home and you have to buy all those plates separately.
A lot of folks end up putting these machines in their garage so they don't end up dropping plates and loaded barbells in the attic (I know that wouldn't go over well with my wife).
Cable Machines/Functional Trainers
These guys use cables and stacks of weight to provide your resistance. Everyone has seen these types of machines in the local commercial gyms. They offer great resistance in a very safe to use manner.
One of the best perks is that you don't need a spotter. Since all the weights are neatly stored and attached to the machine, you don't have to worry about dropping weights or crushing yourself if you lose control.
These systems can get pretty pricey but are tough to beat if you have the money and space. If you know you are looking for a cable machine, check out my cable machine guide for more info.
Power Rod Machines
Bowflex invented the power rod technology and are the only home gyms allowed to use it. The resistance provided by these rods is a little different than the feel of a cable machine or a free weight.
The resistance increases the more the rod is bent during the movement, just like a resistance cable. This provides a fluid resistance that can be more comfortable than other types of home gyms.
They tend to take up less space and there are some nice affordable options. Bowflex gyms can also provide a ton of workout variety.
Suspension Trainers
Technically speaking, I guess suspension trainers could fall in with the bodyweight category, but I wanted to give these systems their own category because they really are unlike any of the other machines out there.
Suspension trainers use a strap connected to the wall (or ceiling or tree) and your body weight to create a fully functioning gym.
Similar to the Total Gyms, these systems offer almost unlimited exercise variety. They're also popular because they're very lightweight and super portable. You can almost literally take these bad boys anywhere.
Don't let their simplicity fool ya- suspension trainers can give you some of the most challenging workouts you've ever faced. When it comes to core strengthening, there's no better.
The most recognizable example of a suspension trainer is TRX.
Other Things To Consider Before Purchasing
Location- where are you going to be putting your new piece of equipment? Does it have to be portable or will it be staying in one spot permanently? Answering this question will be super important when it comes down to figuring out what type of unit you're looking for.
Size- this one goes along with location I guess, but how much floor space do you have to dedicate to your new home gym? Some of these models are huge and take up a ton of space. Others are more portable.
Price- this one should probably have been first on the list, but I guess it's a pretty obvious one. We all have to purchase equipment that we can afford. But depending on your needs, you might be better off with something that is a little under your top budget…more expensive is not always better.
Warranty- this is always big on my list because this is your insurance policy on your new equipment. Longer is always better and better machines usually come with longe warranties.
Multiple users- will you be the only one using this piece of equipment or will you be sharing? Are there kids in the house? Some of these home gyms may not be safe with little ones around and that is something that should be considered (I have 2 toddlers in my house and I know my wife wouldn't let me get some of these simply for the fact that little hands and feet could get smooshed in the moving parts)
Fitness goals- are you looking to bulk up or get more tone? Are you more interested in cardio than strength training? If so, maybe you should be looking into a nice piece of cardio equipment instead. Although depending on the type of workout you do, you can get a great cardiovascular workout on home gyms too.
Am I Actually Going To Use This Thing?- the answer better be yes! The nicest piece of equipment in the world isn't going to do you any good if you don't use it!! If you aren't sure whether a home gym is for you or not, check out this article I found from the Chicago Tribune. It may help you decide.
---
Best Body Weight Home Gyms of 2020
#1 Total Gym XLS
The Total Gym is the quintessential bodyweight home gym. The Total Gyms started out in rehab facilities (I used to use one back in my outpatient days) and made its way into homes all across the world.
Chuck Norris and Christie Brinkley are the company's famous spokespersons and Chuck Norris apparently still uses his to this day…enough said.
The great thing about the Total Gym is that it is incredibly gentle on your joints. You will appreciate that if you have achy knees or shoulders, these machines are great for folks dealing with arthritis.
This system uses your body weight and gravity to provide the resistance. As you get stronger, you can change the incline setting to increase resistance.
The XLS is an upgraded version of the Total Gym. This model boasts a 400 lb max user weight capacity and an upgraded cable and pulley system to make your movements more fluid and comfortable.
This pulley system allows for increased range of motion for your joints…more range of motion = greater strength and flexibility gains.
You will also appreciate the following:
Wing attachment, leg pull accessory, and squat stand included
Includes 5 workout DVDS, an exercise chart, AND a nutritional guide!
Portable and foldable for easy storage- this makes it great if you will have to move your equipment from room to room at times
6 month warranty on parts, lifetime warranty on frame
Did I mention there is no assembly required?!? This gym is ready to go right out of the box!
As you can see, the total gym is a great piece of equipment for anyone looking to improve strength and flexibility. It offers a full body workout with loads of versatility to keep you from getting too bored with your workouts.
It doesn't take up much space and is completely storable when not in use.
#2 Weider Ultimate Body Works
At first glance, this machine just looks like a cheaper version of the Total Gym. Not quite as sleek looking, no awesome paid spokespeople. But when you look a little closer you might just see something that ya like.
This machine is a cheaper version of the Total Gym…much cheaper. And that is a good thing.
The Weider Ultimate Body Works machine uses the same principle of incline and body weight as the Total Gym, but they added the option of being able to increase resistance through the use of 4 resistance bands. Pretty clever really. I
f the highest incline isn't cutting it for you, you can add the bands to increase the resistance of roughly 50lb.
This system is also highly portable with roll away wheels and easily folds for storage.
With the ability to provide you with over 100 different exercises, you will have to opportunity to get in the best shape of your life without the fear of boredom.
The padded glide board will keep you comfortable while you workout. The cables and pulleys will allow you to exercise with unrestricted range of motion, great for reducing chance of injury and improving strength gains.
This product comes with a squat stand, exercise chart, and 90-day warranty. Assembly is a breeze. This home gym is one of the most affordable and highly rated products on the market.
The price really is hard to believe.
#3 VigorFit 3000XL
I'll admit I had never heard of this brand or this machine before researching for this article. When I started looking into it though, it kept sounding better and better.
This is another bodyweight resistance gym like the two above, but this one differs in a few interesting ways.
The VigorFit 3000XL, like the Weider, allows for the attachment of resistance bands to increase resistance. But, unlike the Weider, this machine also allows you to add free weights in the form of plates.
I like this idea.
The included strength kit gives you the opportunity to add up to 100 lb of additional resistance from plates.
You can also add up to 5 resistance bands for an additional max resistance of around 180 lb (according to the website, measured at the highest incline and on exercises without pulleys).
This machine gives you the opportunity to add some serious resistance, which would be great if you are trying to bulk up or do some more serious resistance work.
The other big difference I like about the VigorFit is that it also includes a Pilates kit at no extra charge. This kit includes a dual leg rope system, shoulder pads to keep you from sliding around, and a toe bar.
If you enjoy Pilates, this gym will allow you to do all of your favorite exercises from the comfort of your home.
Like the Total Gym, it boasts the ability to provide over 100 exercises, offering a great total body workout with enough variety to keep you interested for years to come.
Some more features I think you will like are:
Free pull up and push up bars included
Free sit up station included
Squat board included
Thick, cushioned pad to keep you comfortable as you exercise
Heavy-duty steel frame for added stability and durability
Lifetime warranty on everything!
Easily rolls away and folds for storage
Detailed workout manual included
Price-wise, this gym fits between the Weider and the Total Gym. The biggest standouts for me are the Pilates kit and the strength kit- these really add variety and the ability to do some serious strength training.
Like the other 2 above, this machine is great if you are looking for a portable piece of equipment that won't take up too much space in your home.
The VigorFit 3000XL has gotten amazing reviews online, but don't take my word for it, check it out for yourself.
Best Free Weight Home Gyms of 2020
#1 Marcy Diamond Elite Smith System
The Marcy Diamond Elite Smith System is a comprehensive home gym machine that can handle any workout you can throw at it. This bad boy combines several pieces of commercial gym quality machinery into a single unit.
Personally, when I think of a home gym machine, this is the kind of equipment that comes to mind.
This is a free weight machine and unfortunately, the free weights are not included. Just keep in mind that if you purchase this machine, you will also be responsible for purchasing your own plates separately. Make sure the plates fit into your overall budget.
That said, the price of this product is really good considering everything you are getting.
As the title mentions, you are getting a Smith machine. A Smith machine will be awesome for you if you are working out alone- it's like a built-in spotter.
If you are doing squats or bench press, you can rest assured you will be safe because you can lock the bar in at different levels if you get stuck.
This system consists of the Smith machine, a cable routed pulley system, and an Olympic free weight rack. With these options, you will be able to perform any free weight exercise you can imagine.
Also included are a multi-function bench, leg developer (that also functions for preacher curls), lat pull down bar, triceps rope, shiver bar, ankle strap, single handles, and row bar.
This Smith system has "ultra-glide" bearings that will keep all bar movements as smooth as possible. You will appreciate this when you are knocking out those squat and bench reps- will make the movement more comfortable.
This is a large system, so make sure you have enough room in your home. Also, it can take a while to assemble.
#2 Marcy Olympic Strength Cage System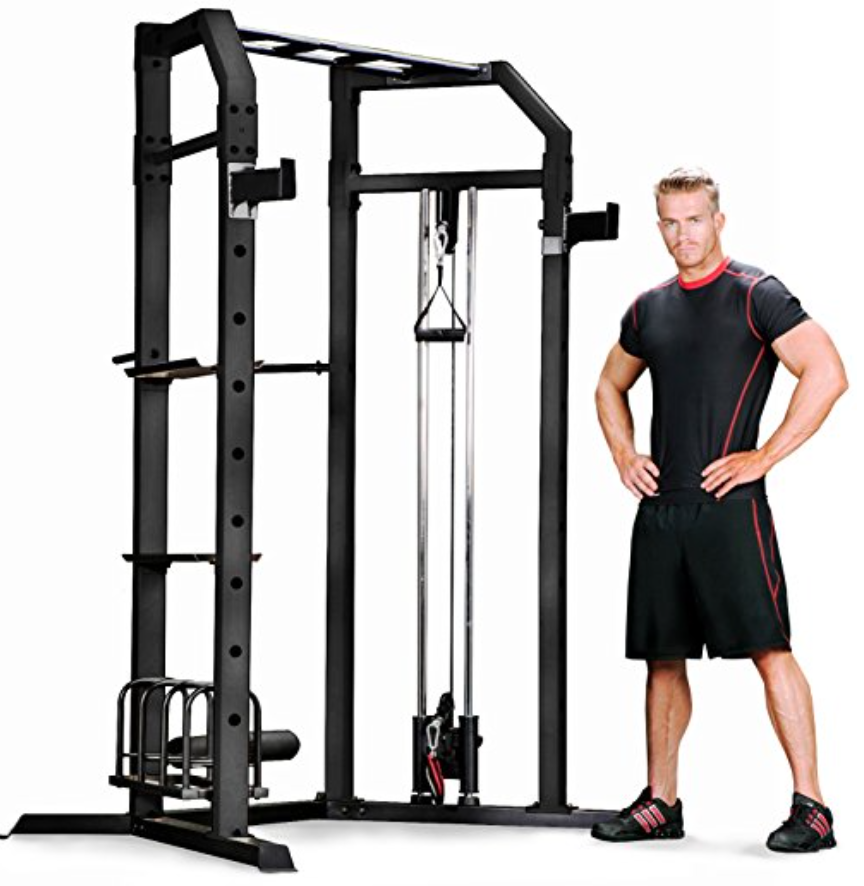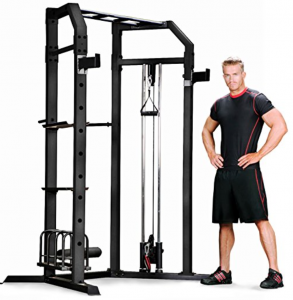 This is a great system if you are not interested in a Smith machine. Subtracting the Smith machine from this unit is also going to save you a nice chunk of change. This strength cage also has some advantages over it's more expensive counter-parts.
What I really like about this unit, is that it includes a pull up bar with multiple grips. Pull-ups are one of the all-time greatest exercises for upper body development.
With this unit, you won't have to buy a separate pull up bar to install in your doorway. The multiple grips are great for adding variety to your pull up regimen…That is if you like doing pull-ups, to begin with (if you don't, no worries).
This cage system also comes with dip handles, which I love. Dips are another one of the all-time best strengthening exercises you can do for your chest and triceps. I do dips on my bench at home, but it's not the same. I would love to have the ability to do real dips at a station like this.
Looking past the pull-ups and dips, this cage will allow you to perform any strengthening exercises you would use a barbell for. However, the barbell is NOT INCLUDED. This package also does not include a bench, which would be nice, but a bench can be purchased separately without much-added cost.
Another nice feature about this system is that it offers weight storage for dumbbells, plates, and kettle bells. The steel frame will hold up to any load you can apply.
It does come with a single pulley system, good for doing tricep press downs, bicep curls, or any of your other favorite pulley exercises.
As you can see, this is a no-thrills cage that is designed for folks that know exactly what they are looking for. This is great for good ole' fashioned pumping iron.
I think this cage system would be perfect for you if you are into weight lifting with barbells. Like all other cage systems, just make sure you have plenty of room for it and are willing to provide your own plates.
#3 Valor Fitness BD-7 Power Rack
This is another simple rack system designed for power lifting type movements. Perfect for squats, bench presses, shoulder presses, dead lifts- you know, the classics!
This is a classic example of a cage system. Basically, it's just a square "cage" that you stand inside while lifting. The advantage is that it has 17 different positions for you to place the safety bars to keep you perfectly safe while exercising. The cage (or rack) basically spots you while you exercise.
The Valor Power Rack is nice because it also includes a pull-up bar and a single pulley system. This will allow you to perform exercises like: lat pull down, low rows, tricep pull downs.
The entire cage is built out of 12-gauge steel, so you can rest assured this system will hold steady under any circumstances.
The rack offers 4 plate storage pegs to store your plates when not in use. This rack uses commercial-grade adjustable bar catches to allow you to place the bar in any position you need during your workout.
Like the above Marcy strength cage, this system does not include any barbells or benches, those must be purchased separately. Keep in mind this system is heavy (it is solid steel), you will most likely need some help with assembly.
All in all, this is a great, simple power rack system that is built to last. No fancy add ons, just real equipment that is designed to last. And at a great price. Did I mention that with over 300 reviews on Amazon, it boasts an average rating of 4.5/5?
Best Cable Machine Home Gyms of 2020
#1 Body-Solid StrengthTech Home Gym
This Body-Solid home gym is a perfect example of a cable-style home gym machine. You've got a nice weight rack in the middle, with plenty of attachments around offering the user several options for exercise.
I'd like to take a second to mention that this is also just a gorgeous piece of equipment. Very elegant!
One of Consumer Magazine best buy home gyms, this machine will offer you a full-body workout… and then some. It comes equipped with over 200lb of stacked weight. This is pretty impressive for a cable machine in this price range.
With all of the included attachments, you will be able to perform exercises such as chest press, lat pull down, chest flys, leg extensions, leg curls, rows, ab crunches, tricep press downs, etc., etc., etc.
The frame is constructed out of 12-gauge steel and all seats are fitted with extra thick pads- a great combination of strength and comfort. The seats also have lumbar support which will help you prevent injury while exercising.
This Body-Solid home gym also comes with a lifetime warranty on everything. That really says a lot to me on the quality of this product. Manufacturers only provide a warranty like that when they trust the product they are producing.
The fact that Body-Solid is that confident in their home gym is a great sign of this machines quality.
With the addition of this home gym machine, you are instantly turning your home into a usable gym. This one piece of equipment will provide you with a total body workout.
Cable machines tend to be a little more expensive than other types of home gym and this one is a little more than the other gyms mentioned above. However, this gym is coming with all of the resistance needed. No need to purchase dumbbells or barbells or benches.
This is gym is ready to use as soon as it is assembled…which will take several hours FYI.
Overall, this is a great pick for anyone looking for a machine workout in their own home. Great price, great warranty, great gym.
#2 Marcy 150-lb Multifunctional Home Gym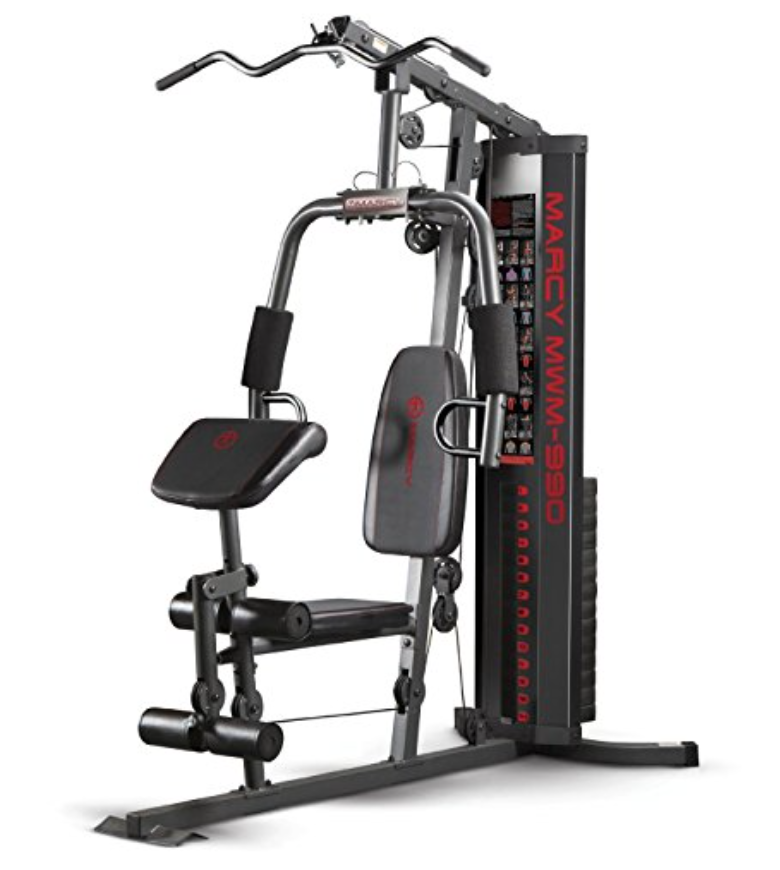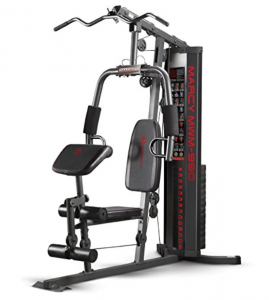 Marcy is a very popular manufacturer of home gym machines, and for good reason. They make quality equipment and offer it at affordable prices.
I've seen several patients over the years that've had Marcy gyms in their homes and they work great. They're easy to use, compact, and pretty affordable.
This home gym packs 150 lb worth of plate resistance (hence the name) which is plenty for most of us (there's also a 120 lb version).
A cool feature of this model that I like is the dual-action of the chest press bar. You can easily convert from chest press to pec fly by removing a single pin- that will come in handy on chest days.
The frame is constructed of heavy-duty steel tubing, this will ensure stability and durability over the years to come. You won't have to worry about comfort with this machine, the seat is padded with nice thick foam for added comfort.
This home gym will allow you to get a full-body workout with all of the attachments that are included:
Upper pulley for lat pull downs, tricep extensions, ab crunches
Chest press/pec fly bar
Leg developer offers leg extensions and hamstring curls
Lower pulley for bicep curls, rows
Also includes removable curl pad that can be used for preacher curls (if you are unfamiliar with preacher curls, click here to learn how to do them correctly… a great exercise for biceps)
This Marcy home gym is a great product for beginners. It's priced very well and should last for years to come. If you are a serious weight lifter, this is probably not the gym for you.
If you are a tall or heavy set individual, you may have some issues with reaching full range of motion on some exercises.
#3 XMark Functional Trainer Cable Machine
Having this bad boy in your home gym would definitely make all of your friends jealous. This cable machine looks like it is right out of the local gym.
Actually, almost all commercial gyms have this type of cable machine because they are so versatile and people love them.
The XMark cable trainer offers a commercial-grade pulley workout station designed for your home. This system includes 2 200lb weight stacks and 2 easy to adjust pulleys with 19 different height settings…the possibilities are endless.
You can easily work your entire body with this system, you imagination is your only limitation.


This home gym also offers a split grip, commercial-grade pull-up bar. I mentioned earlier that I love pull-ups for upper body strengthening. Well, this system has a very nice pull up bar included.
Constructed entirely out of heavy-duty 11 gauge steel and high quality pulleys- this will ensure your workouts are smooth and stable at all times. If that's not enough, you will also like all the attachments that are included with your purchase:
2 8″ hand straps
2 17″ long strap handles
A tricep rope
A short bar
A long bar
Leg strap
Workout poster
The XMark cable machine is a great addition to any home gym, but this thing is heavy and takes up some serious space, so you really need to make sure you have the room for it.
Also, as you can imagine, assembly will take a while. Note that this home gym does not come with a bench- there really is no need for a bench with this type of equipment. Chest press/pec flys would be done standing.
This is the priciest piece of equipment discussed thus far, but it is also obviously the most involved piece. This gym isn't going to work for everyone's home, but if you have the money and space, you won't be disappointed.
Best Power Rod Home Gyms of 2020
#1 Bowflex PR1000 Home Gym
I hope you're not surprised that we are starting this category with a Bowflex product. I mean, come on, they invented this category! And they are still selling a ton of these machines because people love them.
There are a bunch of different models produced by Bowflex, but the general idea is the same for all of the- resistance is provided by these "power rods" instead of free weights or a weight stack.
The result is a resistance that feels a little different, some would say a little more fluid, a little more dynamic. Kinda like a thera band, the resistance is higher as you stretch the rod out.
Gentle on the joints, the movement tends to slow you down as you exercise, which is a good thing in itself because you are more likely to use correct form and less likely to injure yourself.


The Bowflex PR1000 is the most affordable home gym in their lineup, a great intro to the Bowflex family. This home gym provides over 30 strengthening exercises for the entire body. This should give you plenty of variety during your workout and enable you to hit all the major muscle groups.
Adjustable resistance ranges from 5 to 210 lb. This is plenty of weight for most of us, but if you have some serious strength and need more, you may be interested in a higher-level model.
Other models provide more exercise options and more resistance. Continue reading to learn about 2 other available models.
Something I like about the PR1000 is the fact that it offers a horizontal bench press. This is fairly unique because many of their home gyms only offer the vertical bench press (or chest press). The horizontal position gives you more of a traditional feel to the bench press, which I prefer.
You will also appreciate the cardio rowing attachment, which allows you to row like you would on a rowing machine. Give ya a little cardio workout!
With multiple pulley/cable positions available, you can easily change your resistance to achieve maximum results with your workouts.
With a 300 lb max user weight limit and comfortable pad cushioning, this home gym should accommodate most user sizes comfortably.
Overall, this is a great home gym for the price. If you do not want to worry about accumulating free weights, this power rod system may be a nice option for you. It's reasonably priced and Bowflex is well known for their excellent customer service.
The user reviews for this and all Bowflex models are over-whelming positive- the PR1000 boasts an average user rating of 4.4/5 over nearly 700 reviews. 
#2 Bowflex Xtreme 2SE Home Gym
Yeah, you guessed it, another Bowflex gym. What can I say? The invented the technology so there really aren't any other quality gyms in this category. That's ok though, because Bowflex has designed and mastered a cool technology here with their power rod resistance.
The Xtreme is the nicest and most comprehensive model in Bowflex's home gym catalog that uses this resistance technology. This model is a little more expensive than the PR1000 and I want to discuss why.


The technology is the same- same power rod resistance system we discussed earlier. This model, however, provides access to over 70 strengthening exercises (40 more than the PR1000) and can be upgraded to 410 lb of resistance.
Other significant difference you might like include:
Includes lat tower with lat pull-down bar
Ab crunch harness
No change cable pulley system- this is convenient because it allows you to switch between exercises without having to change cables. You will be able to work out faster and keep your heart rate up as you switch between exercises faster
Comfortable, ergonomic seat
Lifetime warranty on power rods
The Xtreme 2SE is arguably Bowflex's most impressive home gym to date. The improvements over the PR1000 are fairly significant, but it's up to you to determine whether it warrants the extra cost.
Reviews online are very positive, like all Bowflex products. The biggest complaints users had with this product were with assembly. Overall, a very impressive home gym unit that deserves it's place with the best home gyms of 2019.
#3 Bowflex Blaze Home Gym
We're going to finish off this category with one more Bowflex gym. When comparing these different models, sometimes the differences can be subtle. This is the case when comparing the Blaze to the Xtreme 2SE.
Both gyms use power rods that are upgradeable to 410 lb. Both gyms have a lat pull down bar and leg developer.


The biggest differences between these two systems are:
Blaze offers 60 exercises instead of 70
Blaze has horizontal bench press
Blaze has sliding seat rail- this is a really nice feature, you will love this when rowing or performing leg presses
Price- this model is about half the cost of the Xtreme on Amazon
The Blaze is a great product. It falls somewhere between the PR1000 and the Xtreme 2SE with regards to exercise options and attachments. Price-wise, it's not going to cost you much more than the PR1000…something to consider if you are interested in a Bowflex gym.
The Xtreme looks a little more heavy-duty than the Blaze, maybe a little more comfortable. But, I prefer the horizontal bench the Blaze provides. Tough call, both are great home gyms from a great manufacturer.
Like the two models discussed before, this Bowflex gym is getting great reviews. It's averaging 4.4/5 stars from the Amazon users, impressive.
Best Suspension Trainers of 2020
#1 TRX Home2
TRX brought the whole suspension training craze into the spotlight. They didn't invent the idea- after all, gymnasts have been doing suspension training forever (rings). But they sure brought it to the masses.
TRX has come out with several versions of their suspension trainer over the years. The newest one to date is their Home2 model, which consists of the suspension trainer, door anchor, and a suspension anchor.
The included door anchor makes it easy to set up at home. Simply find a sturdy door and you're ready to start exercising.
I like that that include the suspension anchor too though, because it comes in handy if you want to take your workout outside. You can use this anchor to attach the TRX Home2 to any sturdy tree limb, swing set, or light post that is strong enough to hold ya.
The straps have been upgraded to be stronger and more comfortable than previous versions. The Home2 is capable of safely holding users up to 350 lb, which is an impressive feat for a system that is so portable.
Speaking of portable, you can throw the straps and anchor in the included mesh travel bag and easily toss it in a suitcase for travel. The whole suspension system only weighs like 2 lb or so- I doubt you'll even know it's in there.
When you purchase through TRX, you also get a 1 year free subscription to their personalized fitness app. This is especially handy for people who are new to suspension training- it'll coach you through your workouts and set you on track to become a pro.
The TRX Home2 comes with a 5-year warranty, which is pretty good for a product in this price range.
Overall, if you're looking for the best suspension trainer for your home, the TRX Home2 is it.
#2 Monkii Bars 2
The Monkii Bars 2 system is another high-quality suspension trainer that can give you an intense, full-body workout from your home or while your travel.
Unlike the TRX, the Monkii Bars have more of an emphasis on working out outside, but you can hook it up inside on a door just the same.
There are a couple of key differences between the Monkii Bars and the TRX. First of all, with the Monkii Bars 2 system, you get 2 independent straps (meaning they aren't connected like they are on a lot of suspension trainers).
Not only can you adjust the height of each strap independently from the other, but you can use the straps like a set of gymnast's rings. This opens you up to a whole array of moves that are difficult to do on a more traditional suspension trainer.
The other big difference is the handles- the Monkii Bars are made out of aluminum.
This makes them lightweight and incredibly durable. Hikers or campers, who find themselves exercising outside often, will appreciate how rugged these handles are.
They'll also love how portable this set is. You could fit the entire system in a large pant pocket if you wanted to.
The good people at Monkii also back their suspension trainers up with a lifetime guarantee- if you find a way to break the straps or handles, they'll replace it for ya.
Overall, the Monkii Bars 2 system offers a slightly different take on suspension training, but the quality is stellar. If you're looking for a portable trainer, this is a great choice.
Final Thoughts
We just took a look at 12 of the best home gyms 2020 has to offer. All of these gyms are highly rated and well received by users. The key is to figure out which gym is going to meet your needs.
Thinking back to the buyer's guide at the beginning of the article, consider what your fitness goals are and what type of resistance you want.
Figuring out what style of home gym you want is the first big hurdle. Each type of gym has its benefits. Your budget and workout space will help you answer this one.
Once you have that question answered, find a gym in your price range and you are good to go. I'm confident you will be happy with any of the gyms on this list.
There are some other highly rated gyms out there that were not discussed here. These gyms made the list because I feel they have the most to offer for the price.
There are some really nice and expensive home gym machines out there that simply won't fit in most homes. Most of us aren't looking to drop 5 or 6k on a home gym either…
I hope you found this article helpful. As always, hit me up with a comment or question and I'll get back to you soon.